The BC Winter Games (BCWG) are an important developmental event for athletes across the province. The BCWG are a mulit-sport event overseen by the BC Games Society and are held February of every other year (even years).
Athletes represent their Zone at the Games.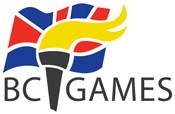 This short track speed skating event will be hosted at MacArthur Island Park.
BCWG 2018 Resources
BCWG 2018 Contacts
BCWG 2018 Coaches
Zone 1 Head Coach: n/a
Zone 2 Head Coach: Nancy Goplen

Assistant Coaches: Mike Hall

Zone 3 Head Coach: Julian Green

Assistant Coach: Robyn Kempers

Zone 4 Head Coach: Louise McLaren

Assistant Coaches: Lucy Lee & Kevin Fitzpatrick

Zone 5 Head Coach: Yanyan Li

Assistant Coaches: Adam Ingle (mentor) & Greg Chow

Zone 6 Head Coach: Kelly Ball

Assistant Coaches: Charles Gelling, Ian Scott, Sarah Bell
Wildcard Applications to be filled out by Zone Rep using this form.