2014 WINTER OLYMPIC GAMES BOUND!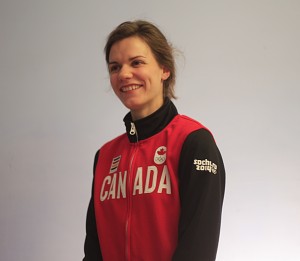 It's now official. Jessica Hewitt was named to Speed Skating Canada's Short Track team to the 2014 Olympic Winter Games in Sochi, Russia! All of BC is very proud of your tremendous accomplishment, Jess. We look forward to your World  Cup activity leading up to the OWG! Congratulations!!!
Update: Jessica and her team mates successfully qualified Canada for the maximum number entries to the upcoming Olympic Winter Games in Sochi, Russia.. Now its just 83 days of focused training before she steps on the ice at the Games for the opening distances.
Update: Josie Spence, in just her 2nd World Cup, this time in Salt Lake City, set a personal best in the 1500m.  Denny Morrison finished 4th in the 1,000m and set a personal best in the 1500m finishing 5th..
Long Track World Cup November 30 – December 2, 2013 Both Alec Janssens and Denny Morrison had 11th place finishes in the 1500m…Alec in Group B and Denny in Group A as the road to the 2014 Winter Olympic Games continues.
Courtney Shmyr,  Michelle Mackay, Jamie MacDonald and Jesse Keca competed in the Canadian Open Short Track Championships Nov 15-17, 2013 in Montreal. Courtney finished 4th overall with three 3rd place finishes and a personal best time in the 3,000m. Jamie had a 3rd place finish and two personal best times while finishing 5th overall. Jesse had two personal best times and Michelle had one personal best time.
In the 1st Canada Cup Long Track competition of the season in Quebec City, Scott Bickerton with 1st (5,000m) and 3rd (10,000m) place finishes and Josie Spence with a 2nd place finish in the 3,000m and 3rd  in the 5,000m highlighted BC results this past weekend. Caitlynn MacDonald, Sara Spence, Jeanette Steinman and Emile Medland-Marchen all had 4 personal best times. Braden Clouthier (3rd – 3,000m) and B.J. Schmidt had 3 personal best times and Jacob Graham, Nick Goplen, and Tori Spence(2nd in the 5,000m) had 2 personal best times.
BC had 38 skaters at the Can-Am Invitational Long Track event in Calgary November 22-24 setting a total of 98 personal best times. Among those setting four such times were Sara Spence, Alyssa Skaalid, Alison Desmarais, Kiersten Hagen, Samara Thew, Braden Clouthier, Nicolas Hiller, Tyler Hartleb, Teunis Takemori, Eric Spence and Colton Johnson. Three personal best times were set by Jeanette Steinmann, Sylvie Lloyd, Hannah Brunn, Emily Sulyma, Mikayla Guenther, Eryn Stickel, Kierra Brule, B.J. Schmidt, Lucas Hiller, Connor Johnson, Mathew Ebert, Anton Shekhter, Samuel Dalla Lana and Landon Young. Well done to all BC skaters!
At the inaugural Western Canadian Single Distance Championships, held in Richmond, BC was very well represented amongst skaters from Ontario, Manitoba, Saskatchewan, Alberta, NWT and the Yukon. In the female division Jamie Lee finished 1st in the 1000m and 2nd in the 500m; Kaelin McNalley had two 3rd place finishes in the 500m and 1500m. Three personal best times were set by Bekky Clemons, Maria Kim, Madison Karpes and Cara Maltese along with two personal best times set by Dominique Hawkenson, Sylvie Lloyd and Amy Cave. In the men's division three personal best times were set by Cormac Chui, William Park, Alex Chizawsky, Teunis Takemori, Michael Warkentin, Devon Gibson, Peter Li and Spencer Pearson-Atkins. Two personal best times were set by Anton Shekhter, Eric Spence, Derek Chizawsky and Shota Inoda. Well done to all skaters and many thanks to the volunteers who made this event so successful.
Coaching Recognition
Congratulations to Donna Bilous who was the recipient of Petro-Canada's Coaching Excellence Award for her continuing work with Canada's very successful Special Olympic National Short Track Speed Skating team. Well done, Donna!